*swish*
Yep, that was the sound of me jumping on the Glossier bandwagon. As soon as I saw the first product shots of Glossier, I pretty much fainted. Okay, maybe that's a bit of an exaggeration, but I got really, really excited. Everything looked not just pretty, but fresh and easy. Glossier still has a quite minimal approach and not too many products, so it's simple and you don't get overwhelmed by the selection. And don't get me started on their branding and marketing.. it's love, people.
After we decided we wanted to go to NYC again, I knew right away where I definitely wanted to shop: the Glossier showroom. I wrote myself a little list what I wanted to get and headed there the next day after we got to New York. The shop itself is really lovely and represents the brand perfectly – everything is super clean, bright, pink and chic. The girls that work there wear pink jumpsuits (which btw look like pajamas – can I wear that at work too, please?) and run around with their little notepad to write down what you'd like to buy. That's the only thing that I didn't like that much – I would have much preferred to write it down myself. This way, I had to remember all the shade names and felt like a crazy person to read out my little list I made on my phone. As soon as your list is done, you can go to the checkout and they will grab your products, put them into these super useful pink pouches that everybody loves and you're done.
What I picked up
I got a little too excited, maybe. I bought quite a lot of stuff, some of it even in three different shades, but let's be honest, you can't get your hands on these products in Germany or Austria yet, so I kind of had to. (Right?)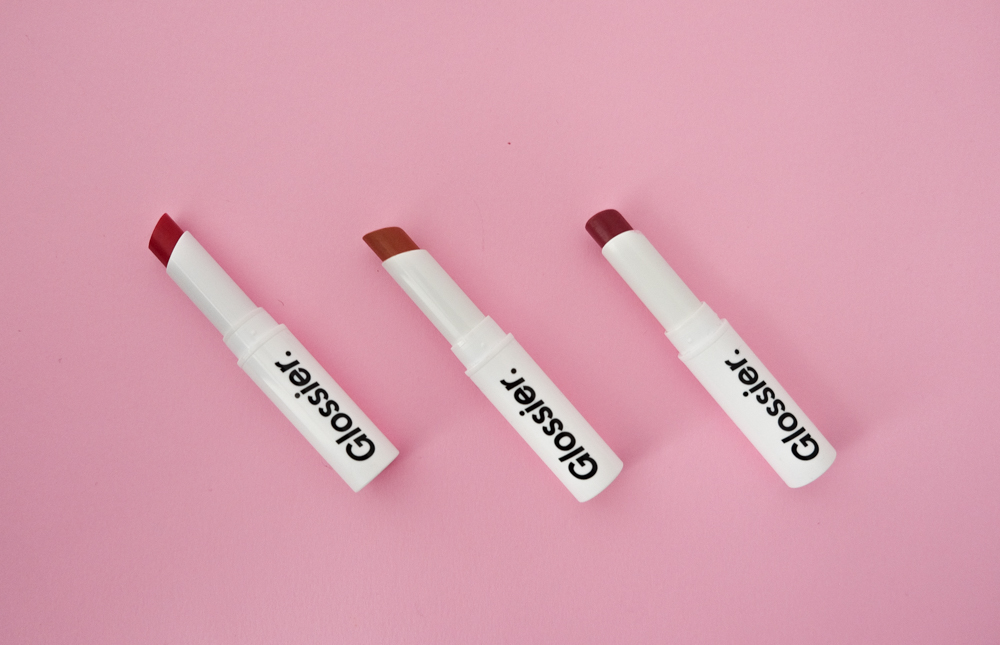 Let's start with the product I was most excited for: the Generation G lipsticks ($18 each). I got three shades: Like, Cake, and Crush, but I could have bought them all. The shade selection is right up my street – lovely nudes, pinks and reds. Nothing too bright, super wearable and this packaging is giving me life. They are sheer, but buildable and perfect for everyday!
I got Cake as part of the Phase 2 Set ($40), which also contains Boy Brow (an eyebrow gel) and the Stretch Concealer. I can't say too much about Boy Brow yet, but the concealer is really nice. However, if you are someone who's got a lot to cover up under your eyes, I would recommend to stay away. The coverage is quite sheer, so it won't cover very dark circles and you'd probably enjoy something like the Soft Matte Complete Concealer by NARS a lot more.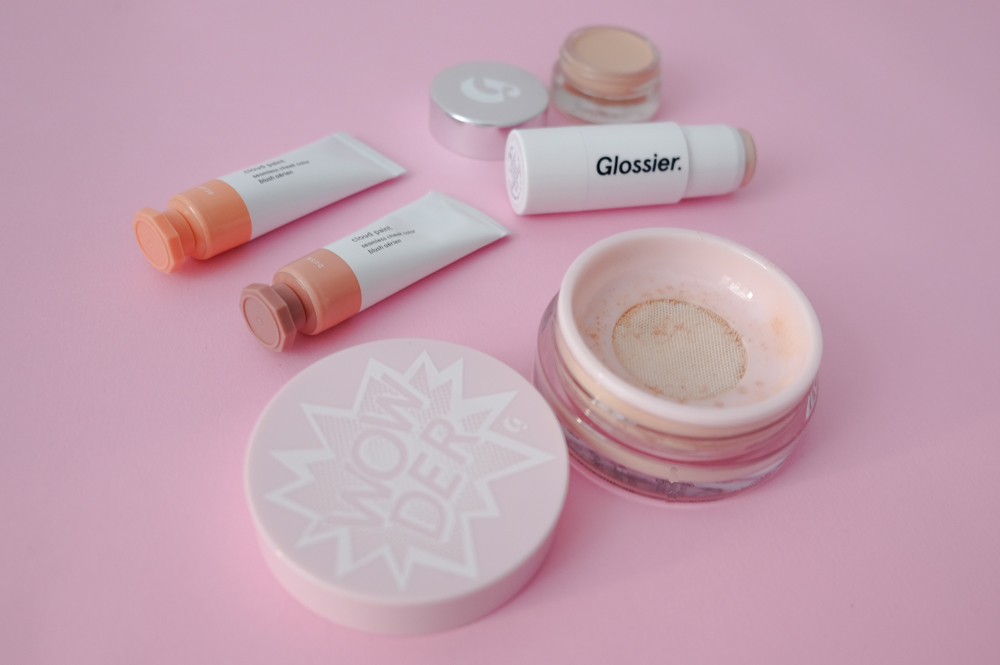 I also picked up their Wowder ($22), which just recently launched. It is a loose, skin-colored powder that is available in three shades. You can also pick up a brush, which felt really lovely, but I got a lot of brushes already and there was just no need to pick up another one. I tried the powder once and like it so far, but I will definitely report back if it's really worth the $ in a little while.
Let's talk about their liquid blushes: the Cloud Paints ($18) are available in four shades. I got Beam and Dusk (it's cheaper if you buy 2), but I truly loved them all. You can also mix them and create your own shade (like paint.. duh). They blend very easily and are not too pigmented, which is a huge plus for me when it comes to blushes.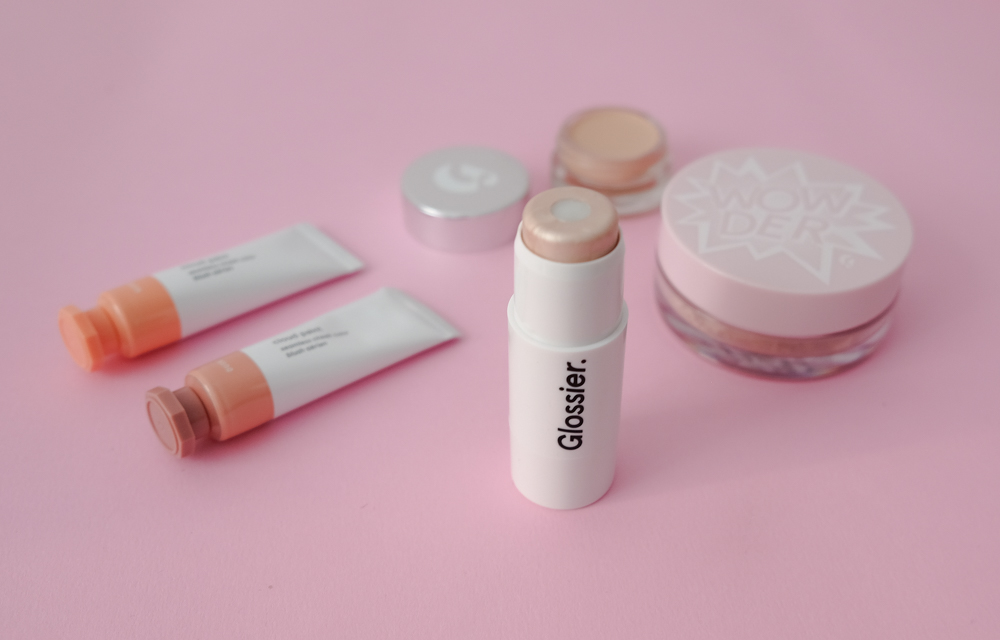 The Haloscope ($22) was probably the first Glossier product that really got me thinking 'I need that!" when I saw it online. And here it is! I picked up Quartz, which is a light pink. It gives a very dewy, but not too glittery effect to the skin. Personally, I didn't like Moonstone that much when I swatched it, it was just a bit too light and silvery for me.
And last, but certainly not least: the Balm Dotcom ($12). Yep, I got three. I only wanted to get Cherry, but then I tried it out in  'Birthday', totally fell in love and then the lady at the checkout told me that if you get three, you basically just pay a couple more $ and pay almost nothing, so.. here we go. (Can you tell that I really enjoyed my time in there?)
It is basically a semi-matte balm that will hydrate your lips (you could theoretically use it everywhere though). It has a super thick consistency and I only tried it a couple of times yet, but I can already tell that I really, really like it. It feels super lovely and the tint that Cherry gives is perfect for everyday.
That's it. (For now. *cough*) I also had their Perfecting Skin Tint on my list, but when I tried it in the store, it just blended into nothing. The coverage is really sheer, so if you have nothing to cover up at all, you will enjoy it – otherwise, probably not so much. I didn't buy any skincare besides the Balm Dotcom, but as soon as Glossier starts shipping to Germany or Austria, I will definitely try some of it (Milky Jelly Cleanser, I am looking at you!). Let's hope for 2018!